For years Thailand has entertained the ambitious thought of linking the Gulf of Thailand to the Andaman Sea. This connection between the Pacific and Indian Oceans would serve as a component of an Eastern Economic Corridor to boost the economy of Thailand's eastern seaboard.
The landbridge plan is part of an effort to make Thailand a hub of sea transport by offering an alternative route to docking in Singapore and transiting the Strait of Malacca. The effort is promoted as something that would save transit time and money for shippers and logistics companies while providing increased revenue for Thailand.
Supporters of the landbridge plan have also touted secondary benefits to tourism and improved communications links. However, the first steps towards making such a landbrdige have only been tentative.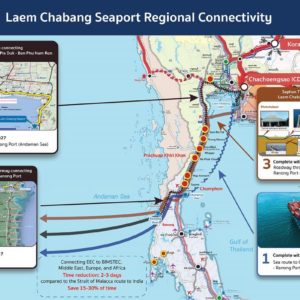 As it stands now, the plan is to expand a port in Ranong, Thailand while improving land and railways to the Gulf of Thailand. Followed by further improvements to transportation infrastructure to support the increased traffic that would be anticipated.
Feasibility studies are being conducted by India International Group. The company is also creating a business development model. The findings are expected to be completed in 2022 followed by an environmental impact assessment (EIA) in late 2023.
The landbridge plan is one component of the Eastern Economic Corridor scheme that includes significant infrastructure developments, including a high-speed train from Bangkok to Rayong.
The overarching concept is for Thailand to become a new connection in sea freight movements between the west and China via India and the Middle East.